December 2017 digital sports roundup
Sat December 30, 2017 11:50 am
Show/hide comments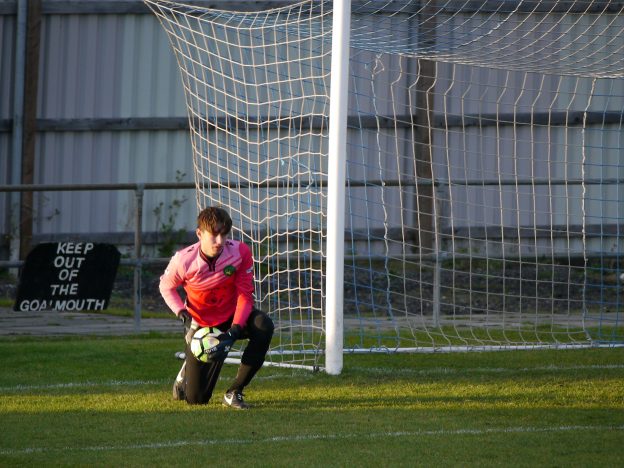 A monthly roundup of happenings in digital + sports
December 2017: Near sighted, far sighted, short sighted and invisible to the human eye
Now: More sport on demand demand
Next: Predictions for 2018
Quick hits: YouTube reels, Instagram and Twitter go direct
Long Read(s): Now you see them, now you can't
NOW: More sport on demand demand
Streaming and on-demand providers have been circling their wagons and picking off sports content opportunities around the world.
Amazon picked up US Tennis Open rights in the UK and Ireland to add to its existing ATP rights and global rights to the AVP Pro Beach Volleyball tour. Amazon has also extended streaming of Thursday night NFL football games it acquired earlier in the year beyond Amazon Prime to Twitch, its gaming and esports streaming platform, and is also using Twitch to stream NBA G league games. Snapchat has announced plans to work with Eurosport to create daily stories from the Winter Olympics next year. Also in 2018, Draft Kings, the daily fantasy betting site, will stream live Euroleague games to North American audiences (unlimited access for a 3 dollar bet).
But the biggest news is that US mobile network Verizon, the new owners of Yahoo and AOL, announced a 1.5bn dollar, five year, deal in early December to stream NFL games across mobile devices, starting with the play-offs in January 2018. The deal represents a 20% hike on Verizon's existing deal. Verizon will make streams available to any mobile user of any network, giving up the Verizon-only network exclusivity of the previous deal, and will not have rights to stream to PCs or connected TVs. Verizon's deal is an attempt to consolidate the value of its family of media assets and its intent is clear: "We're making a commitment to fans for Verizon's family of media properties to become the mobile destination for live sports," said Lowell McAdam, Chairman and CEO of Verizon Communications.
Non-live sports rights are also attracting suitors. Netflix have announced four-part documentary series on both Juventus and Boca Juniors. Amazon announced a similar deal with Manchester City adding to existing Amazon documentary series (existing or forthcoming) on the LA Rams, Arizona Cardinals, McLaren Formula One team and the All Blacks.  In early December YouTube kicked off a second season of NFL Immersed, a "VR docu-series" that follows NFL players both on and off the field.
NEXT: Predictions for 2018 (not exhaustive)
Deloitte's global TMT predictions, which are published at the end of every year in anticipation of the next, are always full of thoughtful insight. Deloitte's picks for 2018 include thought starters for three big questions for sports rights in 2018: does live still matter, how are we going to watch all this content and does the next generation care anyway? You can read it in its full glory here – but you don't have to as I've summarised it below and added some extra insights and data, just for you.
1: LIVE IS LIFE
Deloitte predicts that the value of live TV, entertainment and events will hold steady in 2018 generating a total of 585bn US dollars of which over 250bn will be generated by TV and 50bn by attendees of sports events. Live experiences remain compelling because of four main drivers: "inertia [it's easier to watch what's on than work out what to watch], shared experience, fear of missing out and [mainly for in-person events] exclusivity".
Live TV will continue to hold us in its thrall. TV viewing dropped by 1% last year in the US but still generates 1.1bn viewing hours of live viewing daily. In the US only 11% of viewing is time shifted and 13% in the UK – numbers which, according to UK communications regulator Ofcom, have remained fairly static for the last 10 years since time shifting was first possible.
Sport will still be the jewel in the crown of TV content. As we know big sports events like the Champions League final remain the most watched global TV programmes. In the UK according to Ofcom in 2017 26% of consumers say they watch TV to keep up with sport, In the US 6 of the most watched 20 TV shows (in 2016) even among millennials were sports.
Football will remain the world's most compelling spectator sport. Of 50 global sports leagues with a season aggregate attendance of 1 million or more 29 are football leagues (and the next biggest is rugby with 7 leagues recording a million attendees or more).
Nonetheless in 2017 TV viewership of individual shows and whole networks in many markets is down in the face of stiff competition for content between broadcasters and from on demand and streaming providers.
2: BACK TO THE FUTURE
So how will we watch all this content? Most likely in snatched moments of time (at least a third of UK adults watch content while commuting according to Ofcom), across all the devices we have and often at the same time (UK adults squeeze 11 hours of consumption into 8 and ¾ hours of consumption time, also per Ofcom), and increasingly by subscription.
By the end of next year Deloitte predicts that 50% of adults in developed countries will have at least two online-only media subscriptions. 65%, or 375m, of all subscriptions will be for on-demand or digital video services. Music services will have 150m subscribers, video game publishers 35m subscribers (out of a global base of a little over 100m online capable consoles) and newspapers will have 20m digital subscribers.
By 2020 Deloitte predicts 20% of western households will have at least ten online-only subscriptions to different content offerings costing around 100 US dollars a month in total. That's the rough equivalent of a 1970s household in the US subscribing to two newspapers, four magazines and cable at a total of 24 dollars – the equivalent of 100 dollars today.
So is this a case of back to the future? The most obvious historical parallel is in newspapers which Deloitte predicts will move from a model of a 10:90 revenue mix of subscriptions to advertising in 2012 to a 50:50 ratio by 2020. The New York Times already has 2.5 million digital-only subscribers, the Washington Post has 1 million, the Financial Times has 650,000, and the Guardian has 800,000 paying "members" (comprised, intriguingly, of 100,000 print subscribers, 100,000 digital app subscribers, 300,000 monthly supporters and 300,000 one-off donations).
However, the obvious difference is in price. In the 70s a magazine or newspaper subscription could cost anywhere between a third and two third the price of a monthly cable subscription the cost of even ten online-only subscriptions will be less than the current cost of pay TV in many countries.
For now Pay TV reaches more people (pay TV passed 1bn subscribers globally in 2017) and costs more. The big question for consumers in 2018 and beyond then is how much is too much to pay for the content you want?
The more vexatious question for the immediate future, especially this holiday season, seems to be: where can I find the thing I want to watch and how do I know if I'm going to like it?
(partial answer: https://www.rottentomatoes.com/ is solid for movie reviews and, crucially, links to downloads and streams of recent releases. If you don't have Apple TV search (reputedly good) you can try the GoWatchIt app or https://www.justwatch.com/ (both variable)).
3: THE KIDS ARE ALRIGHT (but need glasses)
Consumer studies such as Pew (US) and Ofcom (UK) have shown a steady decline in young people's TV viewership over the past five years. US 18-24 year olds spend 156 minutes a day online (up from 90 minutes in 2012) and 124 minutes watching TV. Deloitte believe this decline will continue, at a rate of 5% or so a year, but will not reach a (negative) tipping point.
The reason is simple. The adoption rate of the devices that compete for young people's time has begun to plateau and young people's consumption time is increasingly saturated.
In western markets smartphone penetration among 18-24s is well over 90% up from 55% in 2012. The majority of those phones have 5 inch screens, the maximum practical size so their mobile viewing experience won't get much better. 90% of 18-24 year olds have access to a streaming or on demand subscription but daily viewing hours are flat at 1.8 hours a day. And they are doyennes of media multitasking: in the UK according to Ofcom (in 2016) they squeezed 13 hours of consumption activity into 9 hours of consumption time. They spend twice as much time either instant messaging or social networking than older or younger generations. Interestingly this includes the over 25s who were only teenagers when social networking first emerged (and may have more important things to do now).
90% of this age group's TV viewing is live suggesting TV still has an important role.
Looking at younger consumers (under 16) TV viewership is declining by a further 2-5% more than the 16-24s which may spell trouble ahead. Nonetheless fascinating Ofcom research published at the end of November into children's media habits (see chart below) among digital natives shows consumption habits that may look familiar. Small children prefer cartoons, graduate to jokes and then music videos. Kids watch on tablets when they are young and on their smartphones as they get older. TV viewing is pretty stable throughout that time at around 2 hours a day, although for a third of 11-15 year olds that viewing is not on a traditional TV set. When prompted 50% 11-15 year olds say they are interested in news, rising to 96% when informed that "news" could include music, sports and celebrities
The most striking impact of all this consumption may be on children's eyesight. This BBC report onmyopia in young people cites an Australian research study of six year olds showing that 2 hours of outdoor time might reduce kids' chances of being short-sightedness eleven-fold. That, and vegetables.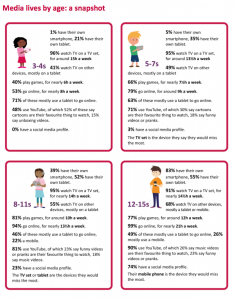 QUICK HITS
YouTube announced Reels, a new video format targeted at users who like to create Snapchat Stories. Facebook announced a new app for video creators targeted at YouTube creators. The battle for "creators" and "influencers" (i.e. rights free content) is hotting up.
Instagram has begun testing Direct, a standalone app for private messages in six countries: Chile, Italy, Portugal, Uruguay, Turkey, and Israel. Like Snapchat, Direct immediately opens to a smartphone's camera.
Twitter now allows users to string a number of tweets together as a single thread, and publish them all at the same time. The thread appears in a collapsed format, clicking on a "show this thread" label will show all the tweets at once.
Facebook is clamping down on "engagement bait": posts that specifically ask for "likes," shares or comments. Pages and publishers that continue to solicit engagements in this way will see reach diminishing across all their posts. Meanwhile a new feature called "Snooze," lets you mute friends, groups, or pages for a period of 30 days. Friends and pages won't be notified that they've been muted. Another new feature called "Highlighted Shares", allows you to see the top 5 Pages that shared a given post
Twitter's Top Tweeted sports usernames for 2017 were:

@NFL
@ManUtd
@WWE
@BleacherReport
@Realmadrid
@NBA
@Cristiano
@Arsenal
@KingJames
@ChelseaFC
@Neymarjr
Twitter and the NBA are teaming to offer fans a Direct Message experience. @NBA will deliver league news, video highlights, live stream tune-in reminders, daily scores and schedules directly to the Direct Message inbox on Twitter. Fans enter the NBA DM Hub with entry cards tweeted from the @NBA, and a "Message" on the @NBA profile page.
Facebook and Snapchat have increased options for advertisers who want to target multi-language and multi country audiences (Facebook) or target users with filters based on their age, gender, language, type of device (Snapchat). Facebook have also quietly announced that Facebook Watch will serve pre-roll video ads, which Facebook has long eschewed.
LONG READ(S)
You probably know that your browsing activity is being tracked (by "cookies"). But did you know your email is probably being tracked too? And not just by companies you correspond with but maybe also by your friends
https://www.wired.com/story/how-email-open-tracking-quietly-took-over-the-web/
This Sporttechie A-Z of 2017 sports tech round up includes some of the deals in this issue as well as some of the tech making a difference on the field of play https://www.sporttechie.com/a-z-rundown-sports-technology-innovation-2017/
The KPMG Football Benchmark –KPMG released a constantly updated tool on social media performance of over 500 football clubs and 2000 players from around the world (Access is free here and possible with a LinkedIn account)
https://www.footballbenchmark.com/
And finally, something you won't see in 2018 : British architect Asif Khan has coated a building in VantBlack – a substance that absorbs 99.9% of light that hits its surface and you literally can't see. The building will stand at the entrance to the 2018 Winter Olympic park in South Korea.
http://edition.cnn.com/2017/11/15/world/vantablack-blackest-black-material/index.html